A zucchini or yellow squash can grow from the size of your finger to the size of your foot, seemingly overnight. You swear that a plant had only the tiniest squash growing and then lift up a leaf and find a king-sized specimen – looking more like a baseball bat that a vegetable – lurking below.
But picked when young and tender, squash is sublime. We like to cook them in stock with garlic and onion and then puree into a soup laced with lots of cream and a generous sprinkle of dill. Serve it hot or cold and you'll be in love.
Grated, it's just the ticket for a quick stir fry or to add to a frittata or omelette. And squash plays well on the plate with lots of other ingredients and flavor combinations – herbs like chives or basil or thyme; cream and cheese and dairy; and of course, vegetables like eggplant and tomatoes.
We take them for granted, but really shouldn't. If you need a reminder of their culinary muscles then try our simple squash sauté. It's as the name suggests, quick and easy and packs a whole lot of flavor on your plate.
Serves 4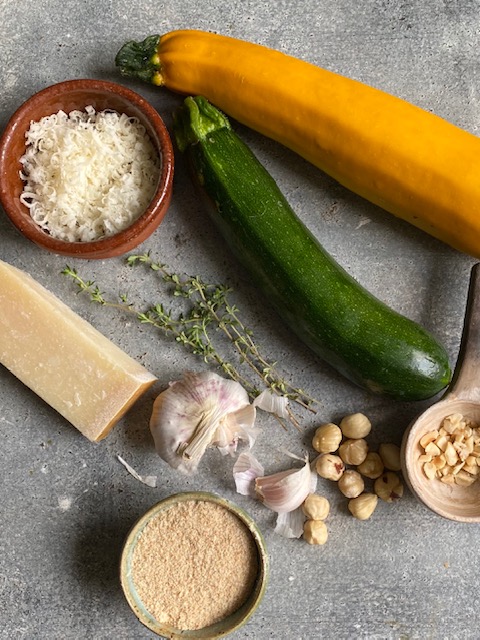 2 medium green or yellow squash, sliced into disks or halves
3 Tbsp olive oil
1 clove of garlic, minced
3 Tbsp fine breadcrumbs
1 heaping Tbsp chopped hazelnuts
1 Tbsp grated parmesan cheese
A few sprigs of thyme
Salt & pepper
Place the breadcrumbs and hazelnuts in a small frying pan and toast over medium-high heat for a minute or two so they take on some color. Add 1 tablespoon of the oil, lower the heat, season with salt and pepper, and cook for another minute or two until the breadcrumb mixture is crispy and toasted.
Remove from the pan from the heat. While it's cooling, heat a large frying pan with the other two tablespoons of olive oil. Add the squash and toss to coat. Cook over medium-high heat until the slices brown. Add the minced garlic and season generously with salt and pepper and cook for another minute or two.
Place the cooked squash on a serving plate. Add the leaves from the thyme sprigs and the parmesan cheese to the breadcrumb mixture and then scatter over the squash. Serve hot or at room temperature.