​Red chile buttermilk cornbread dressing
What's the difference between dressing and stuffing? Officially, it's stuffing if you cook it inside your turkey (or other bird) and dressing if you cook it separately. Cooked inside the bird, it tends to be moister as it absorbs juices from the turkey as it roasts. Cooked on its own in a casserole dish, you might want to add more stock to keep it moist, but the benefit is that you get those crispy bits of bread that are pretty addictive.
Whatever your preference, it is a Thanksgiving staple. To celebrate the season, we're sharing our recipe for red chile buttermilk cornbread dressing. If your to-do list is the length of your arm, by all means use store-bought cornbread or a packaged mix like White Lily. You'll need about 12 cups of crumbled cornbread (that's the equivalent of 3 x 6 oz. packets). And if you don't have buttermilk, use milk instead, substituting a tablespoon or two with lemon juice.
We say that this makes 8 to 10 servings but it depends on what else you're serving up on the big day. And to be honest, you can find us sneaking to the fridge for a bite or two of leftover dressing long after the meal is officially over and the last dish is dried.
Note: When you're making the dressing, always remember to taste and adjust the seasoning before you add the raw eggs.
8-10 servings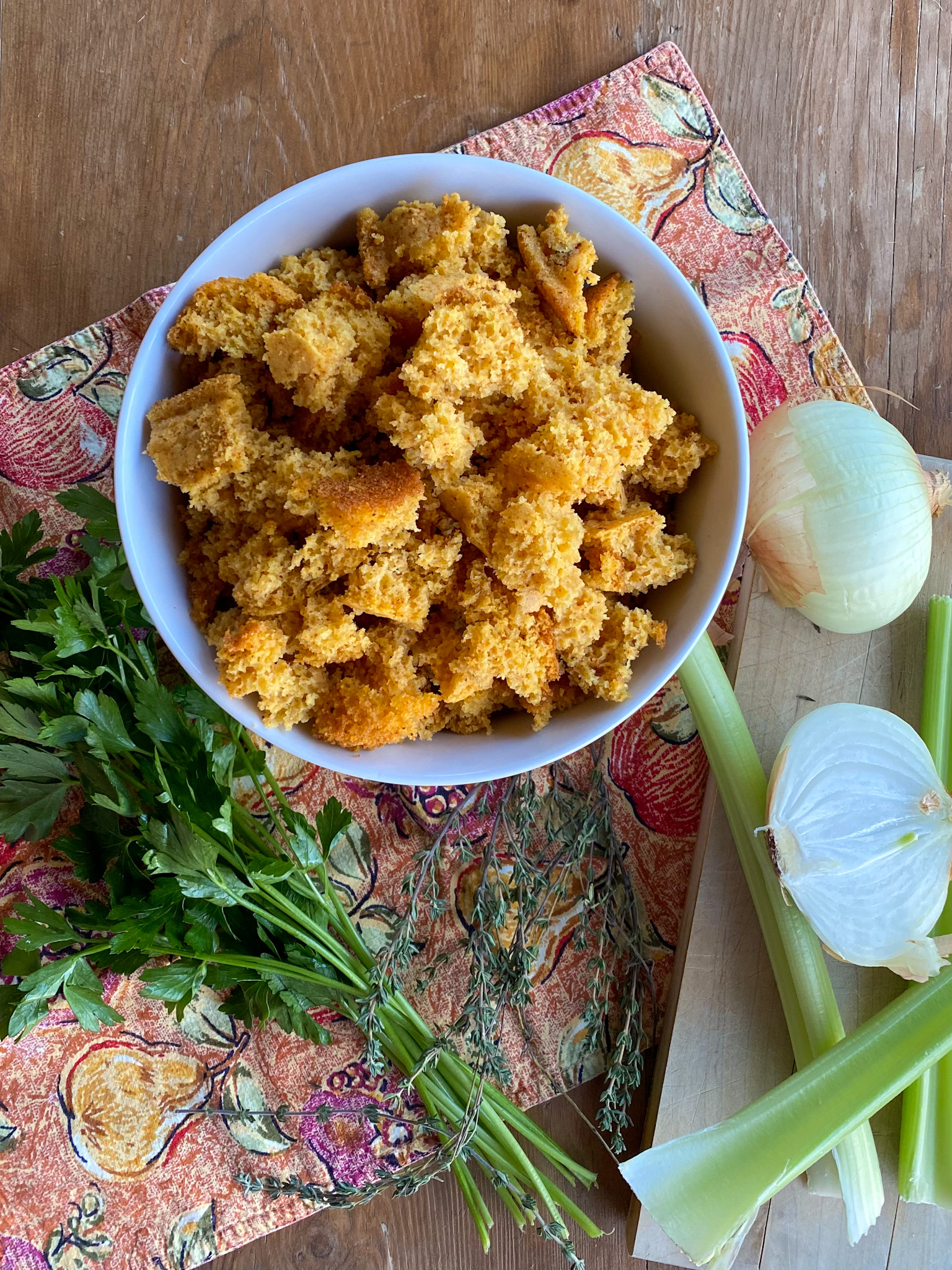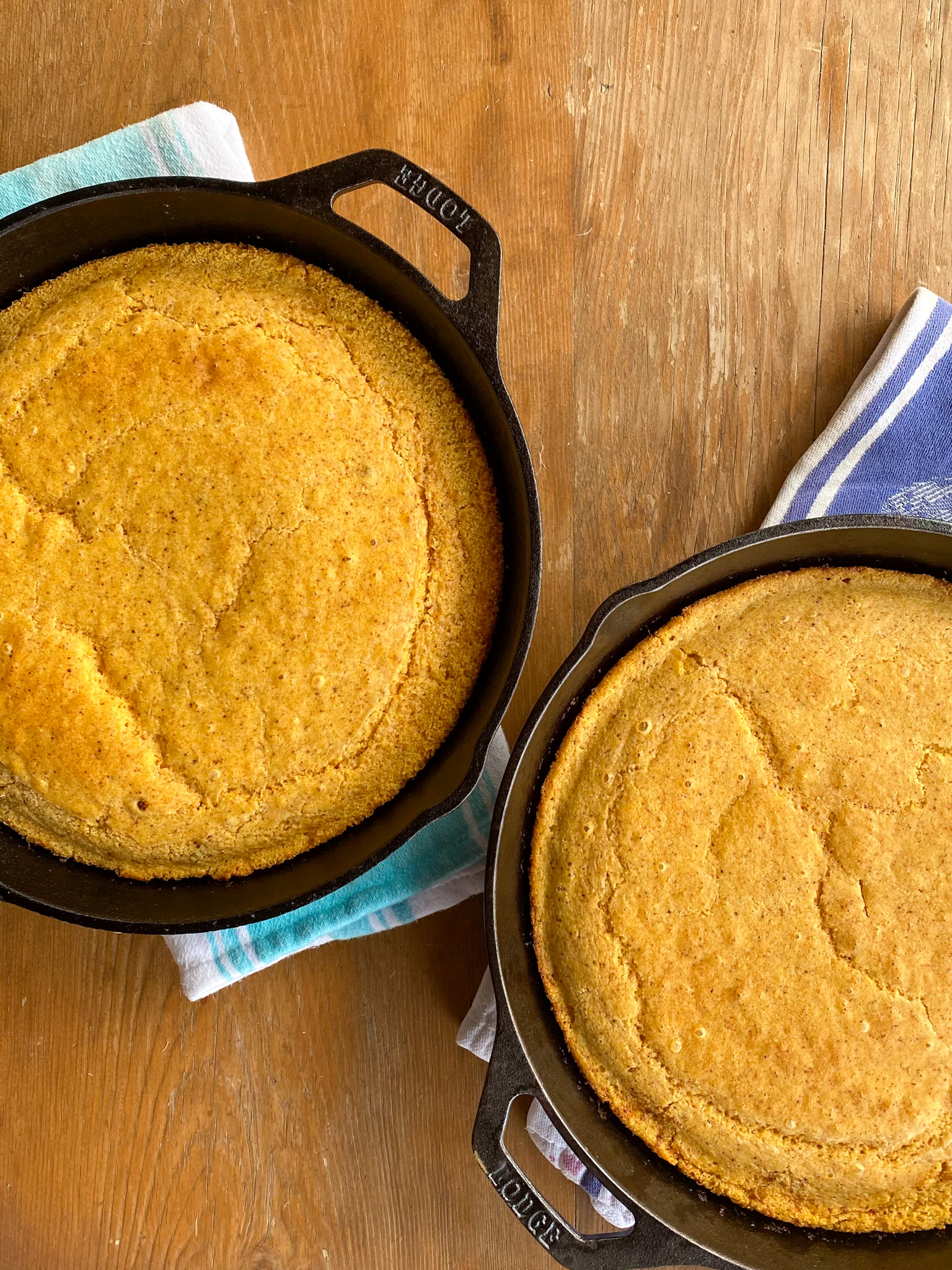 Red chile buttermilk cornbread
2 cups yellow cornmeal
1 cup all-purpose flour
2 tsp salt
2 Tbsp. Sichler's New Mexico red chile powder
1 tsp baking soda
2 Tbsp baking powder
3 cups buttermilk
2 eggs
1 stick of unsalted butter, melted
2 Tbsp unsalted butter, to grease the skillets
Dressing
1 batch of red chile cornbread (above)
1 stick of unsalted butter
1 medium onion, diced
3 celery ribs, diced
1 ½ - 2 cups chicken or turkey stock
1 Tbsp thyme leaves
4 Tbsp chopped parsley
Salt
3 eggs, lightly beaten
To make the cornbread, preheat the oven to 350°. Place two 10" cast iron skillets in the oven to heat them up. Sift together the flour, baking powder and baking soda in a bowl. Stir in the salt, red chile powder and cornmeal. In a separate bowl, combine the buttermilk, eggs, and melted butter. Add the wet ingredients to the dry and stir to combine well. Add a tablespoon of butter to each of the skillets. Let the butter melt and sizzle. Divide the batter between the two skillets and place back in the oven. Bake for 25-30 minutes until a skewer inserted in the center comes out clean. You can make the cornbread a day or two in advance and store it in an air tight container.
When you're ready to make the dressing, melt the butter in a frying pan, add the diced onion and cook over low heat until soft but not browned – about 15 minutes. Add the diced celery and continue to cook until the vegetables are soft and the onion is translucent – about another 5-10 minutes.
Crumble the cornbread, leaving some larger sized chunks and place in a large bowl. Add the sauteed vegetables, thyme, parsley and 1 ½ cups of the chicken or turkey stock. Taste and add salt and more red chile powder if you like. Once you're happy with the seasoning, add the beaten eggs, combine and add the remaining stock if the mixture is too dry.
Preheat the oven to 350°. Place the dressing in a large casserole dish (around 11x15") or two smaller ones and bake for around 25-30 minutes.